Barber Home
ENJOY THE BEST SERVICES FROM THE TOP AFRICAN HAIR SALON IN HOUSTON!
Maruja Hair Braiding is Houston finest African Hair Salon specializing in unique, trendy, and neat braids by Africans. Our commitment at Maruja Hair Braiding is to create eye catching hairstyles that will embrace your Beauty.
We are equipped with a team of professional braiders capable of creating any braid model you desire while changing your appearance bringing out the natural Nubian beauty you were created to be.
Set your appointment today and experience Maruja Hair Braiding.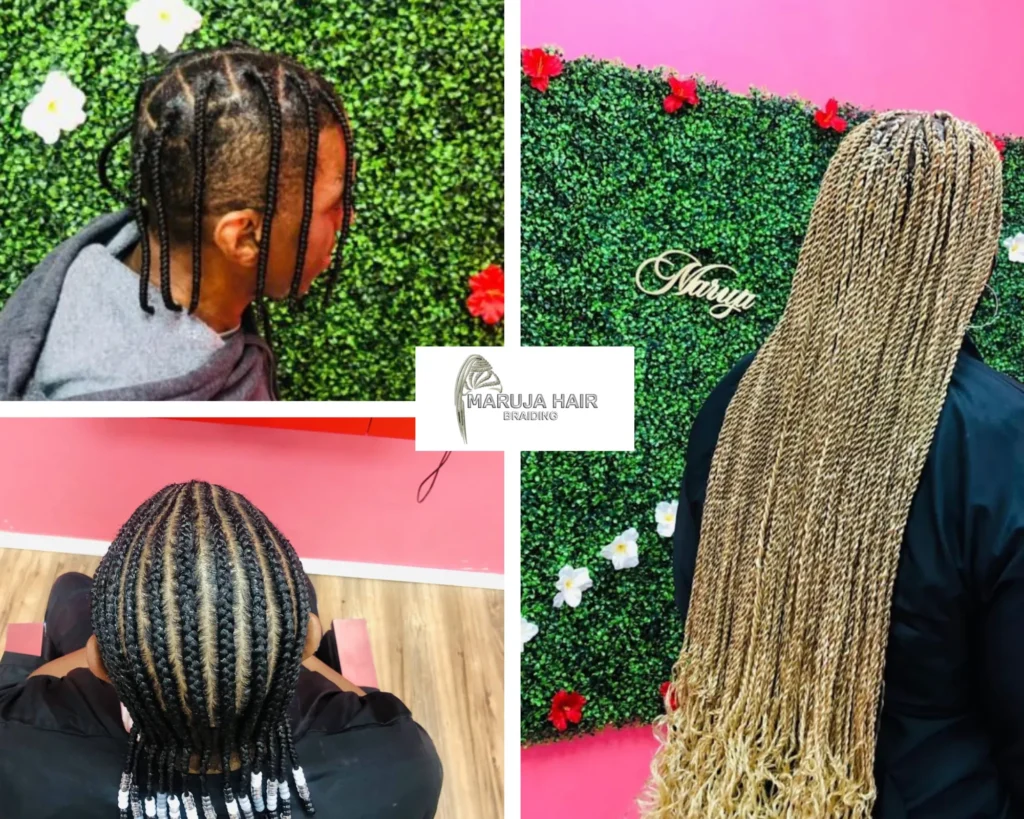 Styles
Maruja Hair Braiding is capable of delivering various styles based on your requirement, preference and style.
Services
Services List of Braiding: Knotless, Twist, Box Braids, Micro Braids, Cornrows, Kinky Twist, Waving, Crochet Braids, Senegalese, Soft Locks, Feed Braids, Kids Braids, Men Braids, Custom Unique Braids, And Much More …
Customer Satisfaction
Maruja take pride and special care in delivering the style you expect at an affordable price. Customer care and satisfaction is our #1 priority.
"Loved the cleanliness and relaxing atmosphere with professional staff. They answered all of my questions and concerns so that I would be sure of exactly what I wanted prior to receiving service. I truly love my knotless braids! Although I mainly wear my braids in a bun, people really compliment the neatness of my braids and triangle parting. Highly recommend Maruja Braids!!."
"I literally landed in Houston less than 24 hours before my appointment and I reached out to SEVERAL stylists , but the team at Maruja Braids were the only ones who could fit me in with a morning appointment at that all! I came in and the ladies were very nice and got right to my head! I will definitely be back soon, I'm moving here in two weeks and I needed my hair done"
"I absolutely love getting my hair done by Maruja hair braiding. Not only do I get lots of compliments, the service is of great quality. She's always prompt and super respectful of my time. My braids are never super tight yet they last a long time. I would recommend to anyone looking for a QUALITY stylist to check her out. I Highly recommend! "
" Maruja Hair Braiding team of braiders are the absolute best! Having really short hair I was nervous about tight pulling around my edges but they were so gentle! 3 braids at one time I was finished in under 4 hours! And best of all I was able to go to sleep without pain lol! I love my hair! I will be back! "
Friendly staff, clean shop, neat braids.
I honestly loved the work they did to me, thank you very much
My first experience with Maruja and sister Stephanie was amazing! They are very professional, kind and fast. My brain is in intact. No pain!!! They were gentle when braiding. I highly recommend their services.
I was very nervous about getting my hair cornrowed as I hadn't had it done since childhood. But I should not have worried. The owner, Maruja, made me feel welcomed, and Stephanie, my hair technician, really did an excellent job on my hair. Stephanie was gentle, and I did not feel a thing with my tender headed self. My hair is shaved on the sides, but now I'm thinking about growing it out so she can cornrow my whole head. Will definitely be going back to get my hair redone in a couple of weeks. (The white on my hair is the product that hadn't soaked fully in my hair ....it made it very shiny) I was very pleased with the outcome.
The women were friendly and the shop was so bright and clean. The stations were neat and my lady was fast. I loved my hair & my experience.
" Love the cleanliness and relaxing atmosphere with professional staff and nice people. Highly recommend Maruja Braids. "
First time me and my sister get braids and they did great
The stylists did a great job! It was my daughter first time getting braids done and they worked very well(amazing) with her! The braids are very beautiful. Would recommend family, friends, and everyone else to get their hair done here! Thank you so much.
Not the hairstyle I wanted but still looks great!
Walk in's was acceptable and I was on short time. The two beautiful ladies was nice and professional. And the woman who braided my hair did a great job! Super impressed and will def be going back in the future.